National Underground Railroad Freedom Center
October 8, 2016, 3:30pm

-

7:00pm
| | |
| --- | --- |
| 3:30pm | Exhibition Reception for FotoFocus Curated Exhibitions Zanele Muholi: Personae, Jackie Nickerson: August, and Robin Rhode: Three Films |
| 5:30pm | Evening Program with Zanele Muholi, Artist, Johannesburg, South Africa, Introduction by Sophie Hackett, Curator, Photography, Art Gallery of Ontario |
Visit the FotoFocus Biennial 2016 Program page for a complete schedule of events.
Participant Bios
Sophie Hackett, Curator, Photography, Art Gallery of Ontari
Sophie Hackett is the Curator, Photography, at the Art Gallery of Ontario (AGO) and adjunct faculty in Ryerson University's master's program in Film and Photographic Preservation and Collections Management. She has contributed to several Canadian art magazines, international journals and artist monographs, and she has curated or co-curated several exhibitions and public projects during her tenure at the AGO, including Barbara Kruger: Untitled (It) (2010); Songs of the Future: Canadian Industrial Photographs, 1858 to Today (2011); Max Dean: Album, A Public Project (2012); Light My Fire: Some Propositions about Portraits and Photography (2013–2014); What It Means To be Seen: Photography and Queer Visibility and Fan the Flames: Queer Positions in Photography (2014); and Introducing Suzy Lake (2014). Hackett was the lead juror for the 2014 AIMIA | AGO Photography Prize, a role she also held in 2010 and 2012. Most recently, she curated Thomas Ruff: Object Relations and co-curated Outsiders: American Photography and Film, 1950s–1980s, both of which opened at the AGO in spring 2016.
Zanele Muholi, Artist, Johannesburg, South Africa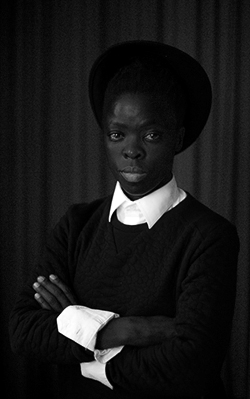 Zanele Muholi is a visual activist. She was born in 1972 in Umlazi, Durban, and lives in Johannesburg. She co-founded the Forum for Empowerment of Women (FEW) in 2002, and in 2009 founded Inkanyiso (www.inkanyiso.org), a forum for queer and visual (activist) media.
Muholi's self-proclaimed mission is "to re-write a black queer and trans-visual history of South Africa for the world to know of our resistance and existence at the height of hate crimes in SA and beyond." She continues to train and co-facilitates photography workshops for young women in the townships.
Muholi studied Advanced Photography at the Market Photo Workshop in Newtown, Johannesburg, and in 2009 completed an M.F.A. in Documentary Media at Ryerson University, Toronto. She is an Honorary Professor at the University of the Arts/Hochschule für Künste, Bremen.
Muholi has won numerous awards, including the ICP Infinity Award for Documentary and Photojournalism (2016); Africa'Sout! Courage and Creativity Award (2016); the Outstanding International Alumni Award from Ryerson University (2016); the Fine Prize for an emerging artist at the 2013 Carnegie International; a Prince Claus Award (2013); the Index on Censorship-Freedom of Expression art award (2013); and the Casa Africa award for best female photographer; and a Fondation Blachère award at Les Rencontres de Bamako biennial of African photography (2009). 
Muholi's Faces and Phases series has shown at Documenta 13; the South African Pavilion at the 55th Venice Biennale; and the 29th São Paulo Biennale. Solo exhibitions have taken place at institutions including the Mead Art Museum, Amherst; Gallatin Galleries, New York; Open Eye Gallery, Liverpool; Brooklyn Museum, New York; Akershus Kunstsenter, Norway; Einsteinhaus, Ulm; Schwules Museum, Berlin; Williams College Museum of Art, Williamstown; and Casa Africa, Las Palmas. Her Somnyama Ngonyama series has been recently exhibited in a solo show at the Standard Bank Gallery during the National Arts Festival in Grahamstown.
Her most recent group shows include the Berlin Biennale (2016); Mina/Meg at the Kulturhistorisk Museum in Oslo (2016); Systematically Open? New forms of production of the contemporary image at LUMA, Parc des Ateliers in Arles (2016); Reality of My Surroundings at the Nasher Museum of Art in North Carolina (2016); African Art Against the State at the Williams College Museum of Art in Williamstown (2016); After Eden/Après Eden: The Walther Collection at La Maison Rouge in Paris (2015); Making Africa: A Continent of Contemporary Design at the Vitra Design Museum in Weil am Rhein and at the Guggenheim Bilbao (2015); The Order of Things: Photography from the Walther Collection at The Walther Collection in Ulm (2014); and After Our Bodies Meet: From Resistance to Potentiality at the Leslie-Lohman Museum of Gay and Lesbian Art in New York (2014).
Muholi was shortlisted for the 2015 Deutsche Börse Photography Prize for her publication Faces and Phases 2006-14 (Steidl/The Walther Collection). Other publications include Zanele Muholi: African Women Photographers #1 (Casa Africa and La Fábrica, 2011); Faces and Phases (Prestel, 2010); and Only half the picture (Stevenson, 2006).