21c Museum Hotel
October 8, 2016, 8:00am

-

3:00pm
8am
Breakfast Reception
9am
Welcome: Shifting Coordinates
Alice Gray Stites, Museum Director and Chief Curator, 21c Museum Hotels, Louisville, with Sebastiaan Bremer, Artist, New York
9:30am
Panel: After Industry
Moderated by Chris Balaschak, Associate Professor of Art History, Flagler College, St. Augustine, FL, with panelists: John Divola, Artist and Professor of Art, University of California, Riverside; Gregory Gooding, Collector, New York; and Mark Ruwedel, Artist and Professor, California State University, Long Beach
10:30am
Lecture: "Rejected Images of the Farm Security Administration"
William E. Jones, Artist, Los Angeles
11am
Panel: The Sun Placed in the Abyss
Moderated by Drew Sawyer, William and Sarah Ross Soter Associate Curator of Photography, Columbus Museum of Art, with panelists: John Divola, Artist and Professor of Art, University of California, Riverside; David Horvitz, Artist, Los Angeles; and Mary Lucier, Video Artist, New York
Noon
Short Break
12:30pm
Conversation: Jackie Nickerson: August
Moderated by Paul Moakley, Deputy Director of Photography and Visual Enterprise, TIME, with Jackie Nickerson, Artist, United Kingdom, and Susan Meiselas, Photographer, New York
1:30pm
Conversation: "American Civil Rights Then and Now"
Julian Cox, Chief Curator, Fine Arts Museums of San Francisco, with Sheila Pree Bright, Photographer, Atlanta
Visit the FotoFocus Biennial 2016 Program page for a complete schedule of events.
Participant Bios
Chris Balaschak, Associate Professor of Art History, Flagler College, St. Augustine, FL
Dr. Balaschak specializes in the history of photography, contemporary art and visual culture. His research looks at how the reproduction and circulation of photographic images (in exhibitions, print culture, photobooks, and digital media) constructs community and place during the American Cold War, while also attending to the political legacies of social documentary present in these histories. His current project looks at photographic works that responded to changes in the Bay Area's social landscape during the rise of the network society (ca 1970-1990). Balaschak received his Ph.D. in 2010 from the Program in Visual Studies, University of California, Irvine, and his B.A. from New York University in 1988.
Sebastiaan Bremer, Artist, New York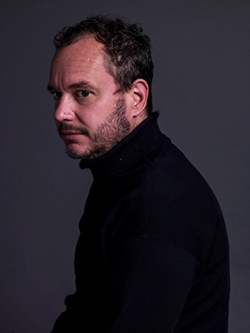 Sebastiaan Bremer was born in Amsterdam, The Netherlands, in 1970. He attended the open studio program at the Vrije Academie in The Hague from 1989 until 1991. During his early years he meticulously reproduced personal photographs in paint. He received the Werkbeurs Grant from FBKVB in Holland and moved to New York in 1992, where he began to work primarily in black and white, reemphasizing his connection to photography. In 1994 he had his first solo show at Galerie Reisel, Holland, and began exhibiting in, as well as curating, group shows. He was an assistant to several artists in New York, and worked on production for the photographers Inez van Lamsweerde and Vinoodh Matadin from 1996 until 2000. In 1998 he produced Liza May Post's film and photograph Trying. In that same year he attended the Skowhegan School of Painting and Sculpture, in Maine, where he began experimenting with murals, collage paintings, and drawing directly on photographs, the style which he continues to use today. In 2001 he had his solo debut, Veronica, at Roebling Hall, New York.
Bremer's work is part of several important collections in the US and abroad, including the Victoria & Albert Museum, London; Museum of Modern Art, New York; Los Angeles County Museum of Art; The Zabludowicz Trust, London; The Rabobank collection, The Netherlands; AKZO Nobel collection, The Netherlands; Lodeveans Contemporary LLP, London; and the Berger Collection, Zurich. Bremer's artwork has been exhibited at the Tate Modern, London; the Brooklyn Museum of Art; The Aldrich Museum, Ridgefield, CT; MoMA PS1, New York; and at Het Gemeentemuseum, The Hague. He has had solo exhibitions at Air de Paris; Galerie Barbara Thumm, Berlin; Roebling Hall, New York; James Fuentes, New York; BravinLee Programs, New York; Hales Gallery, London; Mia Sundberg Galleri, Stockholm; Edwynn Houk Gallery, New York and Zurich; and Het Gemeentemuseum, The Hague. He was an artist in residence at Het Vijfde Seizoen in the Netherlands in 2009. Bremer has been a visiting artist and guest lecturer at Virginia Commonwealth University in Richmond, Virginia; Cooper Union, New York; The Royal Danish Academy of Fine Arts, Copenhagen; the University of Vermont; and the School of Visual Arts, New York City.
Sheila Pree Bright, Photographer, Atlanta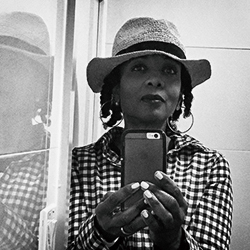 Sheila Pree Bright is a fine-art photographer nationally known for her photographic series Young Americans, Plastic Bodies, and Suburbia.  She received national attention shortly after earning her M.F.A. in Photography from Georgia State University, and is described in the art world as a "cultural anthropologist" creating large-scale works that combine a wide-range of contemporary culture.
In recent years, Bright has documented responses to police shootings in Atlanta, Ferguson, Baltimore, and Washington, DC.  She observed young social activists taking a stand against the same struggles their parents and grandparents had endured during the era of Jim Crow. In 2013, while photographing under-recognized living leaders of the Civil Rights movement, she made a connection between today's times and the climate of the 1960s; that inspired her #1960Now project.
Bright's current and most ambitious project to date, #1960Now examines race, gender and generational divides in order to raise awareness of millennial perspectives on civil and human rights. #1960Now is a photographic portrait series of emerging young leaders affiliated with the Black Lives Matter movement. Bright incorporates an Instagram campaign into #1960Now, within which she asks people in the streets what they will do to bring about change.
Bright's work is included in the book and exhibition Posing Beauty in African American Culture by Deborah Willis (W.W. Norton, 2009). Bright's photographs appeared in the 2014 feature-length documentary Through the Lens Darkly: Black Photographers and the Emergence of a People, directed by Thomas Allen Harris. Her work has been shown at the High Museum of Art, Atlanta; Smithsonian Anacostia Museum, Washington, DC; The Museum of Contemporary Art, Cleveland; FotoFest, Houston; and the Leica Gallery in New York. She is the recipient of several awards, notably the Santa Fe Prize (2006), and her work is included in numerous private and public collections.
Julian Cox, Chief Curator, Fine Arts Museums of San Francisco
Julian Cox joined the Fine Arts Museums of San Francisco in 2010 as its Founding Curator of Photography and Chief Curator. He was educated in Great Britain and holds a B.A. in Art History from the University of Manchester and an M.Phil. in the History of Photography from the University College of Wales. After holding curatorial positions at the National Library of Wales and the National Museum of Photography, Film & Television, Bradford, England, he moved to the United States in 1992 to pursue his career here. For more than a decade, he worked with the photographs collection at the J. Paul Getty Museum, Los Angeles, and then spent five years leading the photography program at the High Museum of Art, Atlanta.  Cox has organized numerous exhibitions on subjects ranging from the dawn of photography's invention in Europe in the nineteenth century to contemporary practice in the United States.
Cox is the co-author, with Colin Ford, of the critically acclaimed publication Julia Margaret Cameron: The Complete Photographs (2003), the first catalogue raisonné produced on the work of the photographer. He is the author of many scholarly articles and books. His publications include: Harry Callahan: Eleanor (2007);  Road to Freedom: Photographs of the Civil Rights Movement, 1956-1968 (2008); Controversy and Hope: The Civil Rights Photographs of James Karales (2013); Anthony Friedkin: The Gay Essay (2014); and Danny Lyon: Message to the Future (2016).
John Divola, Artist and Professor of Art, University of California, Riverside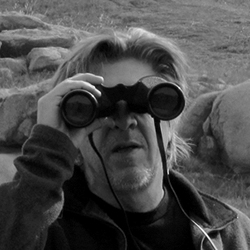 John Divola (b. 1949, Los Angeles) is a Los Angeles-based artist. He received a B.A. in 1971 from California State University, Northridge, and an M.F.A. in 1974 from the University of California, Los Angeles. Since 1975, he has taught photography and art at numerous institutions, including California Institute of the Arts (1978-1988) and, since 1988, he has been a Professor of Art at the University of California, Riverside.
Divola's work has been featured in more than seventy solo exhibitions in the United States, Japan, Europe, Mexico, and Australia, including Galerie Marquardt, Paris, 1990; Seibu Gallery, Tokyo, 1987; the University of New Mexico Art Museum, 1982; The Patricia Faure Gallery, Los Angeles, 2000; and Janet Borden Gallery, New York, 2001. His work has been included in more than two hundred group exhibitions in the United States, Europe, and Japan, including Mirrors and Windows, The Museum of Modern Art, New York, 1978; the Whitney Biennial, New York. 1981; California Photography: Remaking Make-Believe, The Museum of Modern Art, New York, 1989; The Photographic Condition, The San Francisco Museum of Modern Art, 1995; Foto Biennale, Enschede (Obsessions: From Wunderkammer to Cyberspace), Rijksmuseum Twenthe, Enchede, Netherlands, 1995; Made in California: Art, Image, and Identity 1900-2000, Los Angeles County Museum of Art, 2000; Architecture Hot and Cold, The Museum of Modern Art, New York, 2000; Los Angeles 1955-85, Centre Pompidou, Paris, 2006; and The Conspiracy, Kunsthalle Bern, 2009.
Among Divola's Awards are Individual Artist Fellowships from the National Endowment for the Arts (1973, 1976, 1979, 1990); a John Simon Guggenheim Memorial Fellowship (1986); a Fintridge Foundation Fellowship (1998); a City of Los Angeles Artist Grant (1999); and a California Arts Council Individual Artist Fellowship (1998). Recent books by John Divola are, Continuity (Ram Publications/Smart Art Press, Los Angeles, 1997); Isolated Houses, essay by Jan Tumlir (Nazraeli Press, 2000); Dogs Chasing My Car In The Desert (Nazraeli Press, 2004); Three Acts, essay by David Campany and interview by Jan Tumlir (Aperture, 2006); The Green of This Notebook (Nazraeli Press, 2009); and As Far As I Could Get (Prestel, 2013).
John Divola works primarily with photography and digital imaging. While he has approached a broad range of subjects he is currently moving through the landscape looking for the oscillating edge between the abstract and the specific.
Gregory Gooding, Collector, New York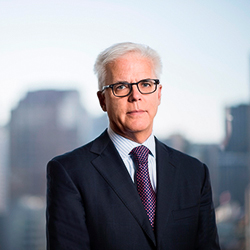 Gregory Gooding is a partner at the New York law firm of Debevoise & Plimpton LLP, where he is the co-head of the firm's mergers & acquisitions group. He grew up in Canton, Ohio, and first became interested in photography when a student at Kenyon College in Gambier, Ohio, from which he graduated in 1983. Gooding began collecting photography actively in the late 1980's and is currently a member of the Photography Committee of the Whitney Museum of American Art and of the Photography Initiative of the National Gallery of Art, Washington, D.C.
David Horvitz, Artist, Los Angeles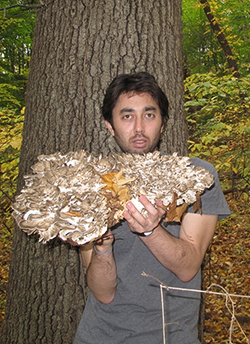 David Horvitz (b. 1981, Los Angeles, CA) is a half-Japanese American artist, who lives and works in New York and Los Angeles. Unfolding as a series of ongoing actions, David Horvitz's projects often subvert standardized systems and patterns of circulation, finding loopholes and alternative logics within them. He has recently exhibited in The J. Paul Getty Museum, Los Angeles; The Museum of Modern Art, New York; the New Museum, New York; Chert, Berlin; Yvon Lambert, Paris; and Blum & Poe, Los Angeles. Recent publications include Mood Disorder, co-published by New Documents, Motto, and Chert (2015); Stolen Spoons, published by Pork Salad Press (2015); Sad, Depressed, People, published by New Documents (2012); and Watercolors, self published with Natalie Häusler (2013). He has realized projects with Triple Canopy, Recess, Rhizome, among others.
William E. Jones, Artist, Los Angeles
William E. Jones is an artist, filmmaker, and writer born in Ohio and now living in Los Angeles. He has made two feature length experimental films, Massillon (1991) and Finished (1997), the documentary Is It Really So Strange? (2004), videos including The Fall of Communism as Seen in Gay Pornography (1998), and many other moving image works. His work has been the subject of retrospectives at Tate Modern, London (2005); Anthology Film Archives, New York (2010); Austrian Film Museum, Vienna, and Oberhausen Short Film Festival (both 2011); and has been shown at Museum of Modern Art and the Whitney Museum of American Art, New York; Musée du Louvre, Palais de Tokyo, and Cinémathèque française, Paris; Museum für Moderne Kunst, Frankfurt; and San Francisco Museum of Modern Art. He has published the following books: Is It Really So Strange? (2006); Tearoom (2008); Heliogabalus (2009); Selections from The Anatomy of Melancholy by Robert Burton (2009);"Killed": Rejected Images of the Farm Security Administration (2010); Halsted Plays Himself (2011); Between Artists: Thom Andersen and William E. Jones (2013); Imitation of Christ, which was named one of the best photo books of 2013 by Time magazine; Flesh and the Cosmos (2014); and True Homosexual Experiences: Boyd McDonald and Straight to Hell (2016). He recently received a Creative Capital/Andy Warhol Foundation Arts Writers Grant for a book on art dealer and collector Alexander Iolas.
Mary Lucier, Video Artist, New York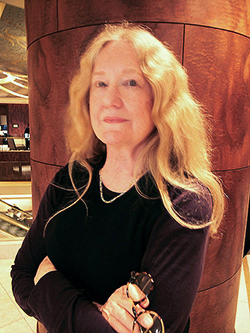 Mary Lucier has been celebrated for her contributions to the form of multi-monitor, multi-channel video installation since the early 1970's. After studying sculpture and literature at Brandeis University, she became involved in photography and performance while still living in the Boston area. She traveled extensively with the Sonic Arts Union for several years, collaborating with composers Alvin Lucier and Robert Ashley in concerts throughout the US and Europe. Since 1971, her mixed-media video work—Dawn Burn (1975) and Ohio at Giverny (1983)—has consistently explored the theme of landscape as a metaphor for loss and regeneration. More recent work, such as Wilderness (1986), Noah's Raven (1993), and The Plains of Sweet Regret (2004) examine trauma as experienced and articulated in more obliquely narrative modes. Lucier has also produced a significant body of single-channel pieces which have been screened in museums and festivals world-wide.
Her video work has been shown in major museums around the world, where it now resides in numerous important collections, such as the Whitney Museum of American Art, New York; the Reina Sofia, Madrid; the Stedeljik Museum, Amsterdam; and the San Francisco Museum of Modern Art. She has been the recipient of many awards and fellowships, from notably Anonymous Was a Woman; the National Endowment for the Arts; the Guggenheim Foundation Creative Capital; USA Artists; and the Japan-US Friendship Commission.  She has recently been involved in reviving and revising some older works for a contemporary context: Color Phantoms with Automatic Writing (1972-2015), made with the late Robert Ashley, at The Kitchen, and Equinox (1979-2016) at the Columbus Museum of Art.
Susan Meiselas, Photographer, New York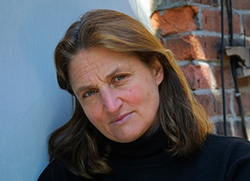 Susan Meiselas is a documentary photographer who lives and works in New York. She is the author of Carnival Strippers (1976), Nicaragua (1981), Kurdistan: In the Shadow of History (1997), Pandora's Box (2001),
 and Encounters with the Dani (2003). She has co-edited two published collections: El Salvador, Work of 30 Photographers (1983) and Chile from 
Within (1990), rereleased as an e-book in 2013, and also co-directed two 
films: Living at Risk (1985) and Pictures from a Revolution (1991) with Richard P. Rogers and Alfred Guzzetti. Meiselas is well known for her documentation of human rights issues in Latin America. Her photographs are included in American and international collections. In 1992 she was made a MacArthur Fellow and most recently was awarded a Guggenheim Fellowship (2015).
Paul Moakley, Deputy Director of Photography and Visual Enterprise, TIME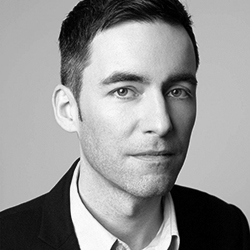 Paul Moakley has been the Deputy Director of Photography and Visual Enterprise at TIME since 2010. He covers national news and special projects, such as Person of the Year. Previously, he was senior photo editor at
Newsweek
and photo editor of
Photo District News
. Moakley is an award winning photographer, producer and filmmaker. In 2015, he won first place at World Press Photo for Short Feature.  He lives at the Alice Austen House Museum, Staten Island, home of one of America's earliest photographers, as caretaker and curator of the museum.
Jackie Nickerson, Artist, United Kingdom
Jackie Nickerson is a conceptual documentary photographer. She is best known for her photographs of farm laborers. She has published books with SteidlMACK and Jonathan Cape and has won the AIB art prize.
FARM was published by Jonathan Cape in 2002 with a German edition entitled Leben Mit Der Erde, as well as a French edition, Une Autre Afrique. In 2007, SteidlMACK published Faith, and there was a French edition titled Fides.
Critic Martha Schwendener, writing in the New York Times, said Jackie Nickerson works in a "traditional social documentary format, not too dissimilar from Walker Evans or Dorothea Lange, only updated for the current millennium… The photographs still ripple with politics, particularly around the issues of food production, agribusiness and labor. It's just that they are marked with a next-generation awareness of the pitfalls of photographing people. Where the liberal humanism of earlier social documentary used people as its 'universal' currency, Terrain puts plants and work implements in the foreground. In this sense, you might call Ms. Nickerson's work post-human social documentary."
Nickerson's work has been exhibited at numerous venues, including the Museum of Modern Art, Salzburg; Palais des Beaux-Arts, Brussels; Mudam Musee d'Art Moderne, Luxembourg; Galleria d'Arte dell'Istituto Portoghesi, Rome; National Portrait Gallery, London; Irish Museum of Modern Art, Dublin; Nerman Museum of Contemporary Art, Kansas; Santa Barbara Museum of Art; Sunderland Museum; Harn Museum, Gainesville; Vatican Museums, Rome; Hereford Museum, UK; Abdijdmuseum Ten Duinen, Belgium; and Benaki Museum, Athens.
Mark Ruwedel, Artist and Professor, California State University, Long Beach
Born in Pennsylvania in 1954, Mark Ruwedel is an artist/photographer currently living in Long Beach, California. He received his M.F.A. from Concordia University in Montreal in 1983 and taught there from 1984 to 2001; he is currently a Professor at California State University in Long Beach. He was awarded major grants from the Canada Council for the Arts in 1999 and 2001 and was given the Outstanding Faculty Award from Cal State, Long Beach, in 2010. In 2014, he was awarded both a Guggenheim Fellowship and the Scotiabank Photography Award.
Ruwedel has exhibited and published internationally for thirty years and his work is represented in museums throughout the world: Tate Modern, London; the J. Paul Getty Museum, Los Angeles; Los Angeles County Museum of Art; Metropolitan Museum of Art, New York; Yale Art Gallery, New Haven, CT; National Gallery of Art, Washington; National Gallery of Australia; FNAC, France; San Francisco Museum of Modern Art; and the Smithsonian Museum of American Art, amongst others. He was included in the National Gallery of Canada's Biennial in 2012. Recent solo exhibitions include Olga Korper Gallery, Toronto, 2016; Gallery Luisotti, Santa Monica, 2015 and 2013; Yossi Milo Gallery, New York, 2012; and Art 45, Montreal, 2012.
Presentation House Gallery, Vancouver, produced Written on the Land in 2002, a survey of ten years of his work with an accompanying monograph that travelled to nine additional venues across Canada. In 2008, the Yale University Art Gallery published Ruwedel's monograph, Westward the Course of Empire, and, in 2010 his artists book 1212 Palms. Pictures of Hell was published in 2014 by RAM Publications. Mark Ruwedel: Scotiabank Photography Award was released in May, 2015, by Steidl Verlag in conjunction with a thirty-year survey of his work presented at the Ryerson Image Centre in Toronto. Message from the Exterior will be released by Mack Books in Fall, 2016.
Ruwedel has been photographing in the American deserts and other remote locations for 25 years, pursuing epic-scaled projects on railroad construction, Pre-Columbian sites, the landscapes of nuclear weapons, and, more recently, failed attempts to live in the harsh environment of the desert. He is currently photographing in and around Los Angeles and preparing work made in Morocco as Guest Artist of the Marrakech Museum of Photography, in 2014 and 2016.
Drew Sawyer, William and Sarah Ross Soter Associate Curator of Photography, Columbus Museum of Art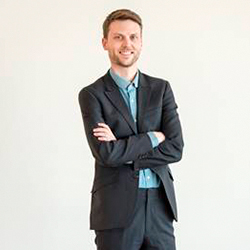 Drew Sawyer is the William J. and Sarah Ross Soter Associate Curator of Photography at the Columbus Museum of Art and an editor at
Document Journal
. He holds a Ph.D. in Art History and Archaeology from Columbia University and was previously in the Department of Photography at The Museum of Modern Art, New York, where he co-organized exhibitions on the work of Bill Brandt, Walker Evans, Robert Heinecken, and Zoe Leonard, among others. In addition to
The Sun Placed in the Abyss
, his exhibition
Lucy Raven: Low Relief
is on view at the Columbus Museum of Art. Sawyer is currently preparing exhibitions and publications for 2017 on Allan Sekula, postwar Soviet and Russian art, and photographs of family that challenge and transform representations of African-American life since 1945.
Alice Gray Stites, Museum Director and Chief Curator, 21c Museum Hotels, Louisville
Alice Gray Stites is Museum Director and Chief Curator of 21c Museum Hotel. Founded in 2006 by art collectors Laura Lee Brown and Steve Wilson, 21c is a multi-venue contemporary art museum located in Louisville, Cincinnati, Bentonville, Durham, Lexington, and Oklahoma City. Stites curates exhibitions, site-specific installations, and a range of cultural programming at all 21c Museum Hotels. Recently, Stites has curated Hybridity: the New Frontier; Dis-semblance: Projecting and Perceiving Identity; Albano Afonso: Self-Portrait as Light; Blue: Matter, Mood, and Melancholy; Aftermath: Witnessing War, Countenancing Compassion; Pop Stars! Popular Culture and Contemporary Art; Seeing Now, Labor and Materials; and others.
Prior to joining 21c as Chief Curator in 2012, Stites was director of artwithoutwalls, a non-profit, non-collecting public arts organization, and from 1995-2006 was adjunct curator of contemporary art at the Speed Art Museum, Louisville, KY. She is an adjunct member of the fine arts faculty at the University of Louisville and has been active on advisory boards at the University of Kentucky's College of Design and at the Art Museum, and at the College of Arts and Sciences at the University of Arkansas. Stites graduated magna cum laude from the University of Virginia, and holds an M.A. from Columbia University.